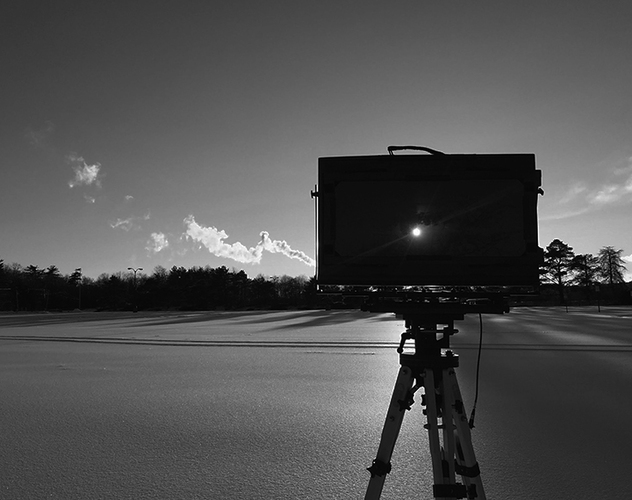 Working in an analog black and white darkroom since the age of 15 Lauren Orchowski's process and practice is deeply rooted in the utility of chemistry, large format film photography, the ritual of repetition and the construction of typologies. Her work examines the critical issues encompassing science, consumption, the spaces we identify as home, and the survival of our species on Earth by introducing the archaeological framework of light to be experienced simultaneously as an object, a memory, and its absence as primal artifact.
Her documentary process of observing and recording the landscape and human condition began at the age of 7 with an Instamatic camera paired with the idea to make a
visual record of industry while traveling
along the Hudson River in upstate New York
on a small boat.
Since then Orchowski's work has been exhibited on the International Space Station, throughout the United States, and internationally. Most recently her project
"
Blasting Area"
was selected by Vivian Galban for the Penumbra Foundation Summer 22 Members Gallery and her long-term project
"Rocket Science"
was selected by Michael Famighetti for publication in the FOTOFILMIC JRNL SPRING 2021 ISSUE 8. Her work from
"The Observable Universe, Near and Far"
received an Honorable Mention from the 2019 HARIBAN AWARD and also appeared in the inaugural RUST BELT BIENNIAL. Her books and prints are in several collections including The Bienecke Rare Book and Manuscript Library at Yale University, The Rutgers Archives for Printmaking, The George Eastman Museum, The International Center of Photography Library, and have appeared in publications such as The New York Times, Scientific American, Gizmodo- France, United States, and Australia, photoworks UK, LENSCRATCH, VICE- Culture, The Humble Arts Foundation, and Art.Critical.
She studied art at Hunter College, City University of New York and the Universität der Künste in Berlin, Germany earning her MFA in photography after completing her BFA in photography from Arizona State University. Born and raised in Poughkeepsie, New York, she lives and works in New York City.